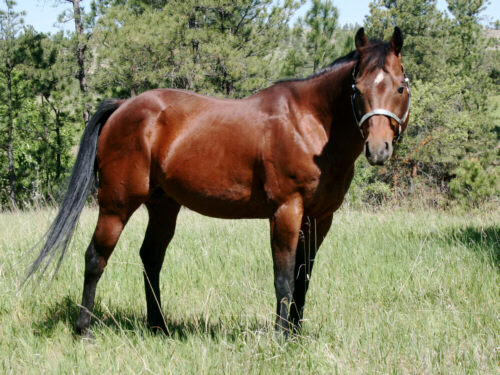 Dualin's bloodlines:
See his full pedigree on the bottom of this page or research his heritage at allbreedpedigree.com

---
Breeding to Dualin:
Dualin stands for outside mares only for pasture breeding.
Stud fee $350, mare care (wet or dry) $75/month. We recommend to leave the mare for at least two cycles with the stud (two month).
The mare needs a health certificate including CEM tested negative, vaccinated for EHV-1, no shoes.
---
5-panel DNA tested negative (he does not carry any of the diseases)

The diseases tested for in the 5-panel are PSSM1, HERDA, GBED, HYPP, and MH.
This is a link to a somewhat shortended and understandable article for more information on these inherited diseases: Understanding 5-panel Testing
---

Dualin's offspring:
We started several under saddle and got feedback from buyers.
Our own experience and the one of the buyers have a lot in common: they describe their young horses as calm, smart, very trainable and quick on their feet. Due to our location most foals sell to working outfits rather than to show homes.