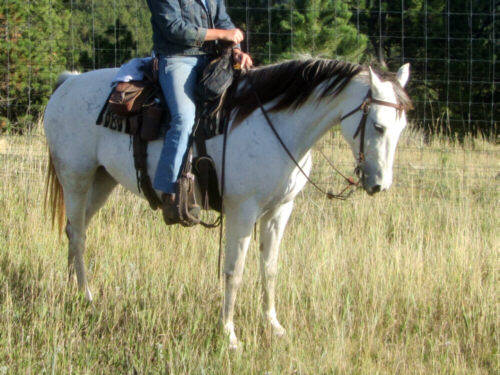 12 year old gray mare (born buckskin colored), sire AQHA (Watch Two Twelve), dam Arabian. Born and raised at the ranch. She's been on the back burner for a long time, and when we finally started riding her she's been cowboyed on quite a bit, making her a bit anxious.
She's broke, knows how to travel in rough country, been behind cows (and watches them), and has roped a mechanical roping dummy. She has no buck, but she is very quick and would not be suitable for a novice rider.

She is NOT a kids or beginner horse and we will not sell her into inexperienced hands.

| | | |
| --- | --- | --- |
| | sire | Carlas Watch (Tyrees Watch) |
| | Watch Two Twelve | |
| | | Peppy Two Twelve |
| Sheila | | |
| | dam | |
| | Arabian | |